P.66


Year : 2020–2022
Discipline : Branding
Project Type : Commercial
Scope : Business Conceptualisation, Space Planning, Interior Curation

Background

After a successful collaboration with the owner of Writer on elevating their retail stationery store about three years ago, they once again turned to us to work on their new space which is just a sniffing distance away from the original Writer store.

P.66 is a lifestyle space that houses a stationery brand, apparel brand, an in-house cafe and a 5-room boutique hotel in a sunlight-filled space. The concept is inspired by a narrative we curated, namely 'a day in the life of a journal lover'.

---
Challenge

After dismantling the heritage shop lot which used to house a textile shop, we were given a blank canvas to work with for the new space. A prequel to the previous project, our task is to expand the brand to align with their future goals — becoming a destination place for journal lovers alike. The brief from the client was to retrofit the Writer's stationery brand and Dennie Yeap's apparel brand under a new umbrella.


Solution & Concept

Given its central location, inherent heritage structure and a charming facade that screams nostalgia, we thought the space can do more than just an ordinary stationery store. Strategically, we wanted to create a solution that embodies the spirit of journal lovers, but avoiding the typical cliche of 'stationery store' that typifies most of the stores out there.

Together with Where's Gut Studio, our brand identity designer in this project, we came up with the name P.66, a name that ties the building's lot number to the writer's element that suggests a page, paragraph or a passage. Tinkering around the 2-floor unit, we came up with the concept of 'a day in the life of a journal lover', a narrative that revolves around journal lovers and what an ideal, romanticised day surrounded by lifestyle and stationery-related elements would look like to them. With that, we thought a multi-use space would fit the picture perfectly.

When planning the layout of the store together with Studio Eleven, our aim is to design a flow that piques patrons' curiosity, one that invites them to meander across a number of areas that serve different purposes and moods. This is ultimately achieved by segmenting the space into different zones that subtly alternate between darker and sunlight-filled areas.


Filled with biophilic elements, the space truly opens up in the middle section of the store where an air well draws plenty of sunlight and the outside world in. The result is an experience that feels like exploration and discovery, inspiring patrons to revisit and find joys hidden in every nook of the space. To keep the brand language in sync, little quirks such as excerpts and quotes derived from famous writers randomly line the walls and mirrors of the store, kindling the artsy spirit in keen observers when spotted.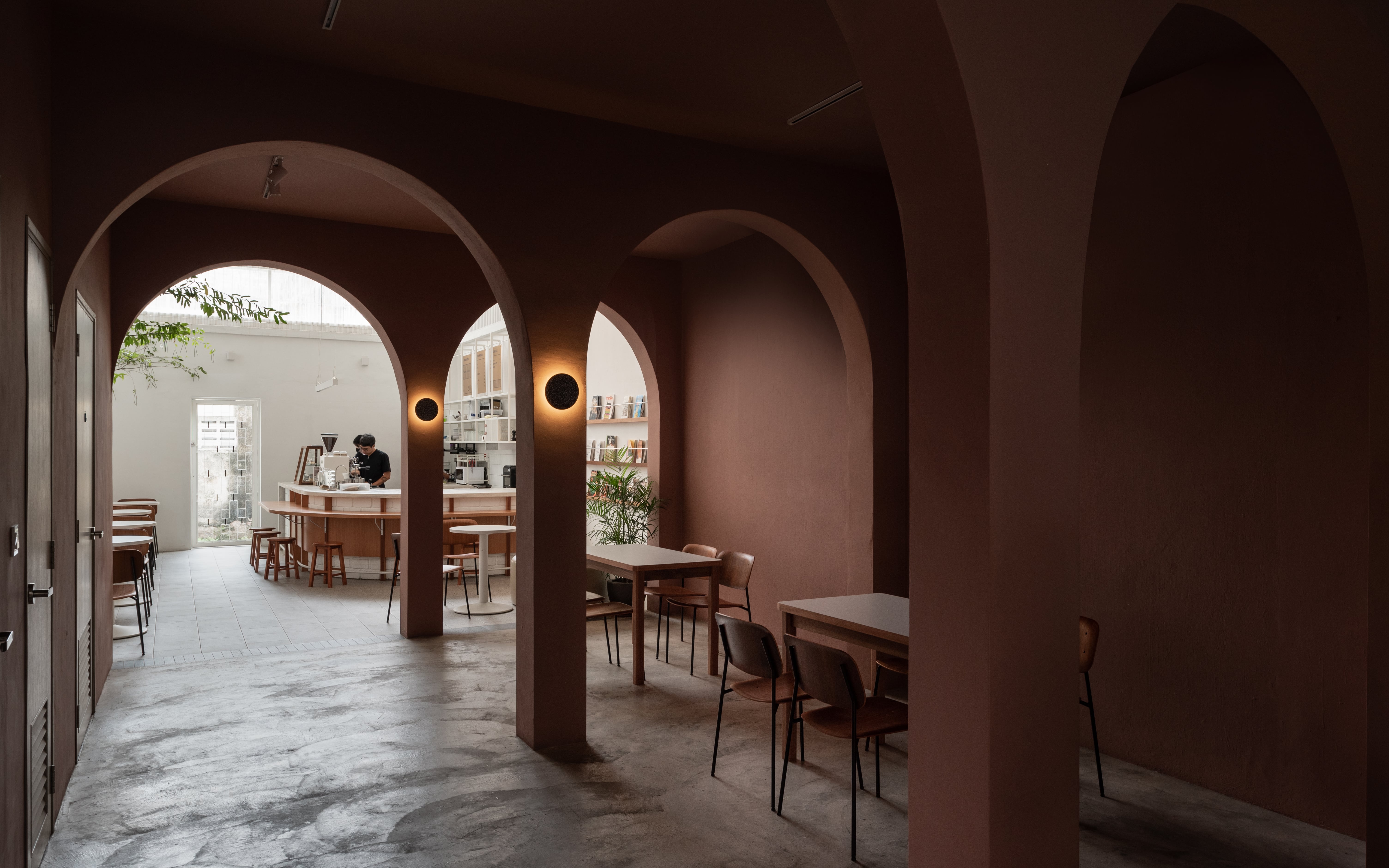 Walking past an arched entrance that serves as a continuous route of exploration, the space comes to a captivating cul-de-sac that houses the P.66 diner. Dilapidated roofs from the olden days were replaced with translucent corrugated sheets, allowing fresh beams of sunlight to seep through every corner of the roof, breathing new life into the space.

Carefully curated a magazine corner to instil artsy and slow-lifestyle elements into the cafe space.


Tailored for writers and journals alike, the final piece that completes the chapter comes in the form of a 5-room boutique lodge, dressed up in mid century modern design elements — carrying weary travellers into an oasis of peace, tranquility and comfort after a long day of exploring beautiful Georgetown.